Product name:particle packaging machine
Product item NO.:GH-DGS-10
Equipment introduction:
Suitable for filling good fluidity powder granular materials, such as rice, wheat, urea, corn, feed, fertilizer powder, sugar, nuts, pepper and so on.
Features:
High precision, high speed, long life, good stability, manual bagging, automatic measurement.
Packaging is not restricted container Occasion variety of materials and packaging specifications change frequently use.
Designed for vibration feeder, electronic weighing scales, to overcome the shortcomings caused due to material changes in the proportion of measurement error.
Digital display is simple and intuitive, Packing continuously adjustable, any change working conditions, the operation is very simple.

Technical parameters:
Metering Weighing (industrial electronic scales)
Total power: 350 W
Three ways to feed vibrators, second level feeding
Air pressure :0.5-0.8MPa
Weighing range: 2 to 10 kg (continuously adjustable)
Packaging : 2 to 10 kg (Resolution 1 g)
Material and material contact parts of stainless steel # 304
Single-bag error : ≤ ± 8 克
Machine weight: 190 kg
Packaging speed : 18 ~ 8 bags / min
The whole volume : 890 × 1050 × 2230 (mm)
Power supply: ~ 220V / 50Hz
(Can be customized according to customer requirements!)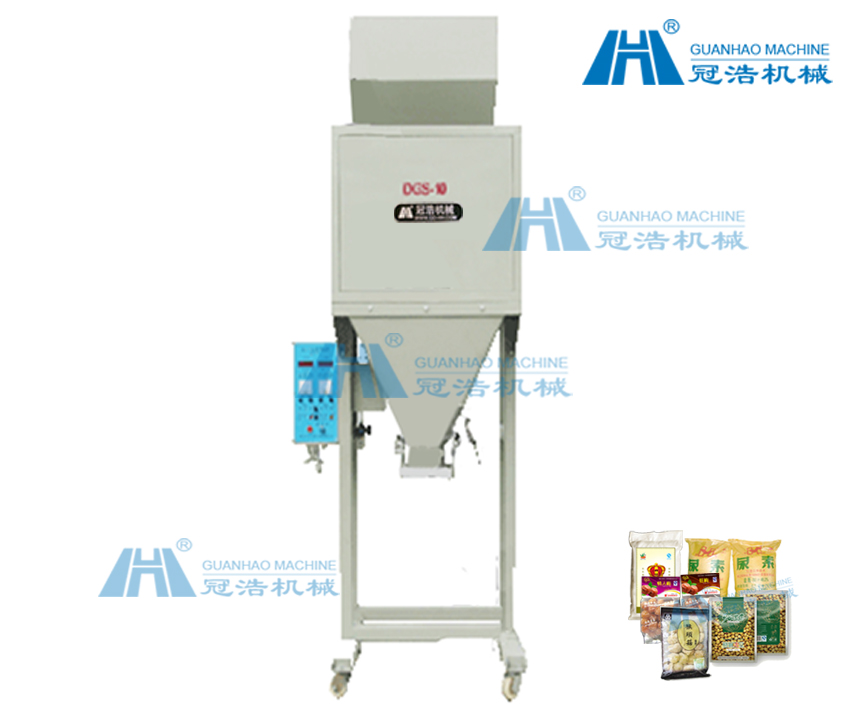 Product name:Automatic particle packaging machine
Equipment introduction:


Automatic particle packing can automatically measuring, bag making, filling, sealing, printing and cutting and counting all the work; for particulate products such as granules and water pills class drugs, sugar, coffee, fruit particle , tea, MSG, salt, desiccant, seeds, chicken, pepper and other fine particulate matter, common packaging materials are paper / polyethylene, cellophane / polyethylene, polypropylene / polyethylene, polyester / aluminum foil / polyethylene, polyester / aluminum / polyethylene vinyl, nylon / polyethylene, polyester / polyethylene composites; computer control, digital display, stable and reliable operation, high accuracy bag, automatic tracking color, intelligent exclude false-color, dual temperature heat sealing intelligent temperature control.

Technical parameters:
Packing speed (bags / min) 55-10040-60
Measurement range (ml) 2-50 20-100
Bag Dimensions (mm) (L) 50-115 (W) 30-85 (L) 80-145 (W) 30-100
Bag sealing way: trilateral closure
measurement method: cup type
Power (Kw) 0.86
Weight (Kg) 230
Dimensions 695X770X1580 (L × W × H) (mm)
diameter packing material ≤300 mm
(Can be customized according to customer requirements!)