Automatic powder filling machine

Product Model: GH-F2A

Introduction:
1.The whole machine made of stainless steel,especially suitable for GMP certification,food hygiene certification required anti-corrosion chemical products packaging.
2.T
ouch screen interface,
work stability,anti-interference,high precision weighing, convenient,intuitive operation. Package weight at any time stepless transform any working state at any time, and convenient operation.
3.
Feeding material insitute adopt servo motor spirall,with accurate positioning,high precision,speed,torque,long life,and the speed can be set,and good stability.
4.
The mixer uses Taiwan maintenance-free gear motor:low noise, long life, maintenance-free for life.
5. Material proportion detect functionon:overcome the shortcomings of the resulting weight change due to changes in the material proportion .
6.The air resistance of glass hermetically sealed stainless steel side open the composite hopper, See clearly material at a glance, the powder isn't allowed escape outside,filling export equipe with dust absorption device to protect the manufacture room enviroment.
7.Replace the screw attachment, be able to adapt to a variety of materials for ultra-fine powder to large particles.

Technical parameters
1 Metering mode:spiral rotation quantitative formula(applicable to small particles or powder canned)
2.Container size: cylindrical container φ20-100mm 50-200mm higher
3.Packaging weight :10-500g (transform screw attachment)
4.Packing precision: Package weight ≤ 100g deviation ≤ ± 1g 100g deviation ≤ ± 1%
5.Packing speed :20-60 cans/min
6.Power supply: three-phase 380V (or custom single-phase 220V) 50-60Hz Total power: 1Kw
7.The whole weight: 200Kg
8.The whole volume: 2440 × 680 × 1770mm
9.Hopper volume: 26L
Can be customized according to customer requirements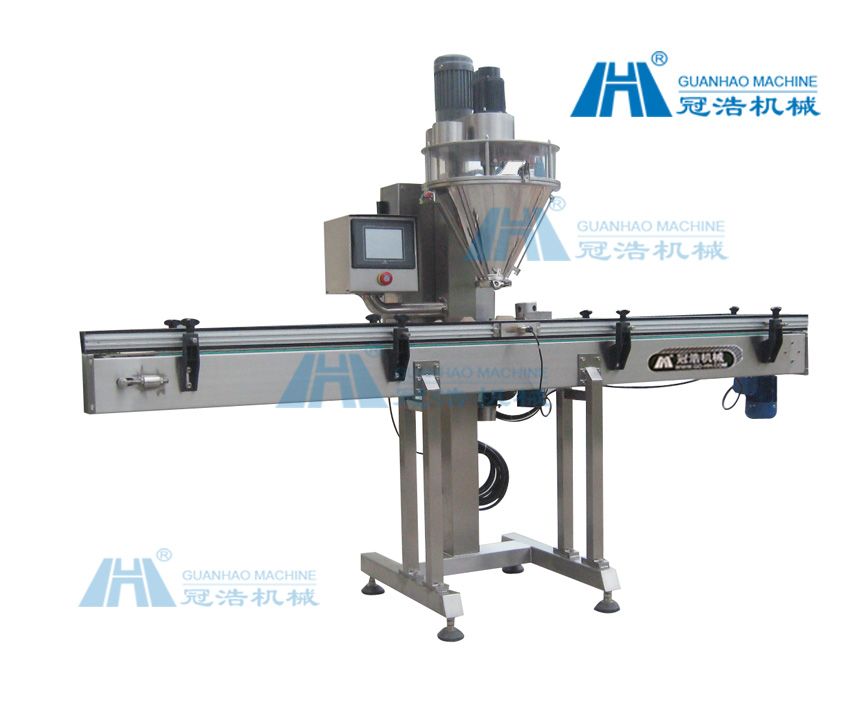 ○ 粉剂充填和锁盖在一台机上完成
○ 伺服电机推动螺杆,充填量只需在触摸屏上设定
○ 可更换不同的螺杆,以适合不同的物料
○ 可更换锁盖头,以适合不同的瓶盖
○ 整机有6个检测点,在触摸屏上显示工作状态,实现智能化运行
○ 料仓侧面全开门,清洗简便
○ 可加装送料系统

技术参数:
| | |
| --- | --- |
| 充填容量 | 3-500ml(via changing screw rods) |
| 充填头数量 | 2 Sets |
| 生产速度 | 30-60 B/min |
| 灌装精度 | 0.75% |
| 料箱容积 | 30L×2 |
| 压缩空气 | 5-6Kg/cm 0.2m3/min |
| 电源 | 3P 380V/220V 50-60Hz 2500W |
| 体积(L×W×H) | 2400×1100×1800mm |
| 净重 | 750Kg |
○ 粉剂充填和锁盖在一台机上完成
○ 伺服电机推动螺杆,充填量只需在触摸屏上设定
○ 可更换不同的螺杆,以适合不同的物料
○ 可更换锁盖头,以适合不同的瓶盖
○ 整机有6个检测点,在触摸屏上显示工作状态,实现智能化运行
○ 料仓侧面全开门,清洗简便
○ 可加装送料系统
| | |
| --- | --- |
| 充填容量 | 3-500ml(via changing screw rods) |
| 充填头数量 | 2 Sets |
| 生产速度 | 30-60 B/min |
| 灌装精度 | 0.75% |
| 料箱容积 | 30L×2 |
| 压缩空气 | 5-6Kg/cm 0.2m3/min |
| 电源 | 3P 380V/220V 50-60Hz 2500W |
| 体积(L×W×H) | 2400×1100×1800mm |
| 净重 | 750Kg |
可根据客户需求定做。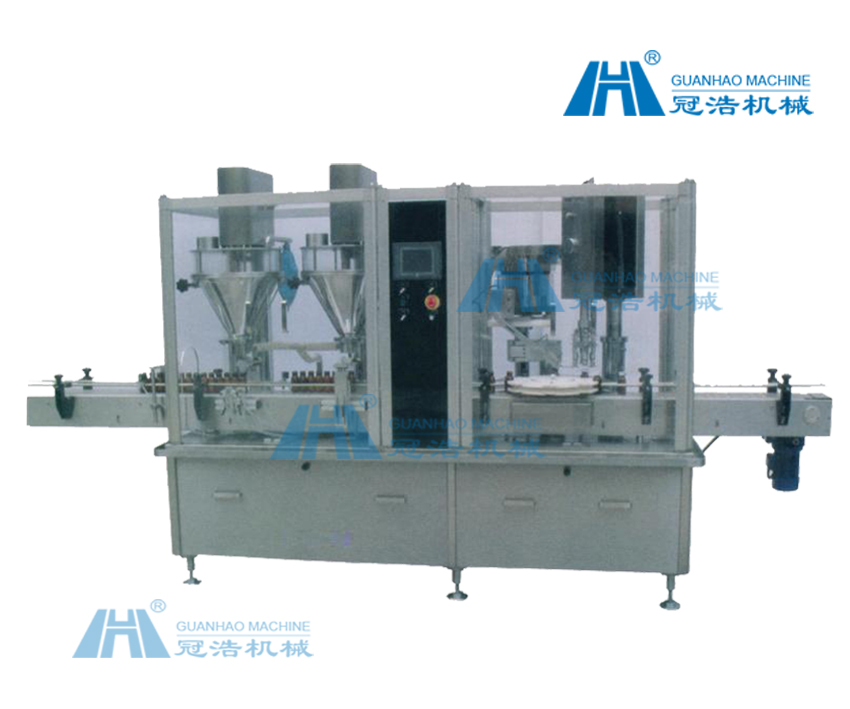 全自动100克颗粒粉剂灌装机
原理特点
A、该机是集机、电、光、仪于一体,PLC控制, 具有自动定量、自动充填、自动调整计量误差等功能
B、速度快:采用螺旋下料、光控技术
C、精度高:采用步进电机及电子称量技术
D、包装范围宽:同一台定量包装机在10-1000g内通过电子 秤键盘调整及更换不同规格的下料螺旋连续可调
E、适用范围广:粉剂状、颗粒状物料均可
F、适合罐类、瓶类等各种包装容器粉剂定量包装
G、因物料比重和料位变化造成的误差可自动进行跟踪修正
H、光电开关控制,仅需人工把瓶摆放在输送机上,瓶子到灌装嘴时自动汽缸挡瓶,自动灌装。 
I、与物料接触部位均采用不锈钢制作,清洗方便,防止交叉污染
J、可配置供料装置,更方便用户使用
技术参数
电源: AC380V
功率: 900W
包装精度:±1%
包装规格:10g-1000g
包装速度:800-1500瓶
总重量:380kg
整机尺寸:长*宽*高=2500*650*2000(mm)
可根据客户要求订做